Over the course of 3 years, Pocket PC's that were used merely to store your contacts phone numbers in and schedule Tasks and Appointments on, are now being used for many functions that most never even dreamed they'd be doing now on their Pocket PC's, such as making Phone calls around the world, surfing the internet at super speeds, taking pictures with their devices and sending them out via e-mail around the world instanteously, storing important business databases, using them as remote controls for all their appliances in their homes and even using them as remote controls on Networks!
Even the larger Corporations are starting more and more to see these devices as a must for their industries and are developing PPC software for scanning bar codes and also I've seen Doctors that are using new medical software to access their patients medical charts and even software that helps assist them in making medical diagnoses. Some businessmen hook up a big screen to these little devices, then put on a full blown PowerPoint slide show presentation for various important meetings when they travel and the list goes on and on…
But that stuff is not important, I only care about skinning the thing! hehe
So lets get down to the serious business at hand and go down the skinning line. If you own a Pocket PC of course. Common sense tells you that you will want to cover it up so it don't catch cold ('specially as expensive as these toys are, you better). So the very first skin you will want to put on it is some sexy leather and Vaja has some of the softest Italian Vitelino leather cases around (very elegant). Now, let me warn you they are not cheap, but they sure make holding your Pocket PC pretty exciting hehe!
Vaja is w/o a doubt the Cadillac of leather cases, so you'll want to check them out and they also carry (7) other 'textures' of leather, some being less expensive but definitely not the same feel, so I would not compromise there if I were you =)
Okay, now on to the other kinds of skins. I made a few skins for my own Pocket PC use, by shredding to death a DesktopX & WindowBlind theme called FauxS-Toon which was done by a skinner named Paul Boyer aka Mormegil (there was nothing left but a few dust particles when I got done porting them). So I will also include some screenshots off of my own device as we go along, okay?
DashBoard
I'm sure most of you are familiar with Dashboard or have seen the word before? It's basically a Today Screen plug in that has modules so you can organize several today screens in divisions with productive applications. It's really not just good eye candy, but also a necessity if you are an organisation freak and want to make better use of your pocket pc. WinCustomize has a pretty broad selection of Dashboards skins available, so that's definetely the place to go for them.
The one on the left is the Port I did off of Mormegils FauxS-Toon DX & WB and the one on the right is Xymantix Dashboard called Graduate. I love it. (These are my two default Dashboards depending on my mood these days)
Here are a few cool today screen plug-ins that you could use along with DashBoard.
T-Day Counter is one of the plug ins I use with Dashboard for quick and easy reminders, that I can color code and set with a .bmp that I make for myself. But this app comes with default reminder icons to select as well, if you don't know how to make your own .bmp icons.

I don't know too many other Pocket PC owners that don't have this, 'cuz it's not just the best looking of them all, but it also is so needed to keep your eye on how much juice is left on your ppc and has several nice looking meters to watch your memory storage internal & also both external SD or CF cards etc. plus home clock, as well as set a time clock if you travel or have a relative away from home in another time zone. It has tweakers of all sorts such as using ClearType and selecting system fonts for your ppc, animating your start menu and windows(!), clearing out temp files and cookies via manually or auto delete every hour. It has a scrolling customized app launcher, short cuts to much needed Pocket PC settings and the thing even talks too! Telling you when your mem & bat are getting low (which can be irritating if you don't have atleast a 512 SD Card and 50 million apps on your device!) hehe

Well, too much to cover here. This thing is awesome, gives you the coolest five day weather forecast graphically, as well as when you tap on the icons, it gives you a more detailed weather forecast. It has a one line scroll to different bars such as Movie and Ticket info, News around the entire world, Stock info, Sports, you name it! You have to check this one out! (Me, I only like the cool clouds and thunder lightning bolts on the weather forecast) =)

I have this one 'cuz it is also a today screen plug-in. I organise into my Dashboard, but I actually still find myself going to my BugMe note app. Why? Why else 'cuz my BugMe notes are skinnable and I like my own notes! hehe

Here are some screenshots of both. First Handnotes, which is clean and easy to organise your notes, with it's default calendar and a tree directory, alarms, etc. Also you can shoot your notes out as little .bmp attachments instantaneously via e-mail off of your device! But you cannot skin your notes, that's the only drawback or this would be the perfect one for me =(

So I also posted a few screenshots of the Bug me notes below which are the skinnable ones.
Okay, I could bore you to death with Dashboard and all the Today screen plug-ins you can mix and match to suit your needs and skins, but I won't. I'll stop here and move on to a few other skinnable things.
Well if you've ever used a thing called Windowblinds, there is nothing left to say 'cept gotta have it for your pocket pc and you can get it here for free. Though it does not support the notification icons yet, for us pocket pc phone edition users, unfortunately. So the much needed icons to interpret missed calls, backed up incoming msgs waiting for you or your internet connection signal status. Of course you cannot see them, 'cuz the task bar gets skinned over them. However you can use something called TodayPhone Pro as a today screen plug in for the missed calls. I use it 'cuz it logs, so you can keep track of your phone usage minutes, etc.
WMP for Pocket PC has gotten much better, but PocketMusic will prob blow the default Pocket Media Player right out of the water, 'cuz it supports Winamp 2.x skins on your Pocket PC now.
Check these out… The one in the middle is a port off of two skins that were originally done by Mormegil and also Juni. Done just for the purpose of the ss, but my skin on my device has one other thing added to it, so it actually has the work of 3 people in it (talk about a serious ripper!) hehe
Calculators
Skinnable calculators, welll, one is fully skinnable and one is semi-skinnable, 'cuz you cannot actually skin the buttons (nor the buttons on tap), but that one talks, so it's a talking semi-skinnable Calculator? Not much else to say on this subject really. 'Course we all use our Pocket PC's calculator, why not skin it & let it tell us the totals? =/
Power Launcher
Tons of Pocket PC launchers, but of course I like this one. Why? Yup, 'cuz it's skinnable! hehe And really cool, 'cuz you can actually assign it to a hardware button and it has a sorta jog dial effect. Not only can you skin the thing, but you can 'assign' and 'label' customized catagories of your apps, making it 100 times faster and easier to find what you want quickly and launch the app via hardware button, so there is no need to pull out the stylus everytime you want to launch something. Plus more and more apps are now being designed to function via hardware buttons, like calendars and of course the Media Players and stuff. Anyways, this one is called Power Launcher.
The default skin needed help badly, so I threw a quickie one together for the ss below.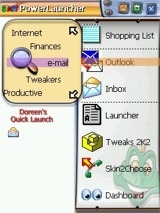 Calendars
And speaking of Calendars, this one is my mostest favorite! Why? Yup, 'cuz it's 100% skinnable. Down to the icons, you can totally skin this thing to death! It's called VoCalendar.
Here's two screenshots of my current default Calendar skins. I also had a Brown & Beige Skinz.org theme with matching icons, but can't find it now.
Phone Dialer
I have a Samsung i700, the ultimate bestest toy, I think, I ever owned. I love it! And its not only a Pocket PC, but my phone and internet connection as well. Giving me a tiny bit more freedom when I need to sneak out, but still be connected for work and kids and since I cannot skin my regular home phone this really gets me happy when I have to talk on the phone, which I hate… This app lets you set the skin, so all you do is open the default images and replace the files with your own and select the new skin. It is called XDA Skin Chooser and here is a link to Yorches' Tutorial (/me plugs the Yorch guy, hellooo Yorch!)
Here are some more screenshots, one is of the XDA options panel and a couple themes of my skinned phone. You don't wanna see the default skin, it's b-o-r-i-n-g…
Animated Caller ID
This has got to be the neatest contact list organizer I've ever seen. And also it lets you assign either a static photo of the person and/or a customized animation. So when you recieve an incoming call, their assigned images pops up on your device. ('Course these are only the default templates and this is currently in Beta so I have not had a chance to make my own ani's for it yet and these are, should I sayyyy, a bit loudddd) hehe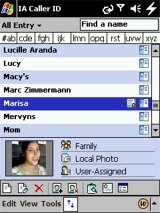 Turn off Computer
Last but not least, when I power off my device and put it to bed…
Yup, you guessed it, a skinnable shutdown window, that even has the default desktop windows shut down 'sound' file that plays! hehe!
Tons of shutdown apps for Pocket PC, but this one called Turn off Computer is 'skinnable', howeverrr it is in German? (I think? 'Cuz I can't even understand his site) So it was a bear for me to figure out how to even skin it 'cuz all the files were in German, but I did!
And now I guess I'll turn myself off on this article. I hope you guys realize now how silly you are just using your Pocket PC's to store phone numbers on, while you're trying to look cool tapping with your stylus on the boring default apps that come pre-installed on the thing! Either that or maybe I should be feeling silly that I know all this stuff, when I should be just using the thing to store a few numbers on it??? hehe =)
…and in closing let me drop a few more must haves
---