Rainy: I've neglected to add new skinnability features to Rainlendar lately since I've been adding some actual functionality to the app. The skinning support is not as flexible as it could be, so that's at least one thing I'm going to improve in the future. My todo-list for Rainlendar is quite long (it's not the one in the screenshot :-) so there will be plenty of other new stuff too added in the future. Here's a screenshot of the latest development build that I'm testing at the moment: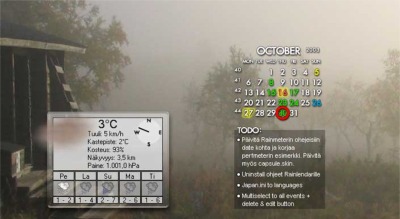 The TODO-list will be a new feature in Rainlendar, which I've found quite handy already. I'll be adding also a better alarm system as well as skinnable alarm dialog.
The weather information is a test skin for a still unreleased version of Rainmeter (the graphics are from a Linux Karamba skin).